Various Composers

Heaven and Earth: A Song of Creation

Cantata
SATB (div); solo chanter
English
80
46:38
978-0-9701767-8-3
2020
HE-SC
There are no customer reviews yet for this item. Be the first!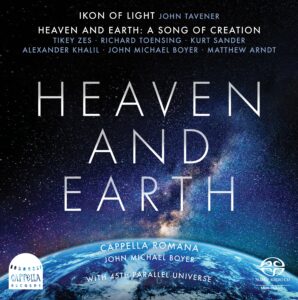 A collective setting of the complete text of Psalm 103 [104]--the Psalm of Creation composed by six leading Eastern Orthodox Christian composers. The various movements range from mystical-sounding unison Byzantine style chant to glorious 16-part double chorus, showcasing the diverse musical styles, chant and choral, that co-exist and enrich one another. This work was premiered in 2018 by Cappella Romana (Alexander Lingas, Artistic Director) in Portland, Oregon under the direction of John Michael Boyer, Associate Music Director.
Cappella Records proudly announces the TWO-DISC release of HEAVEN AND EARTH, performed by Cappella Romana with 45th Parallel Universe, directed by John Michael Boyer. The other work featured on the album is Ikon of Light, by Sir John Tavener.
Heaven and Earth
is released on a
Hybrid SACD
in 2.0 stereo and 5.0 surround sound (DSM192K/24bit), recorded in
DSD
and
Dolby® Atmos Spatial Audio
and downloadable to audio servers and devices. The accompanying booklet provides an extensive essay on the work, the full texts used in the composition, composer notes, full translations, and beautiful photography.
To be taken to the order page, click
here
.
less
Table of Contents