Look Inside

May the Glory of the Lord Endure to the Ages (v. 33-37)

Cantata
Double Chorus
English
24
8:33
2020
HE-SC6
This piece is part of the following collection(s):
There are no customer reviews yet for this item. Be the first!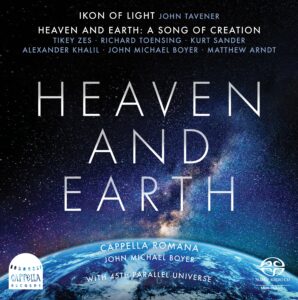 The sixth movement from Heaven and Earth: A Song of Creation, a unique collaborative work by six different composers active in different repertories of Eastern Orthodox Christian sacred music that brings to life the words of Psalm 103 (LXX) with a musical unity in diversity that reflects the psalmist's images of the unity in diversity of the divinely created order. The late Richard Toensing (1940 -2014) was a prolific composer in a variety of genres: initially active in Lutheran circles, he converted to Eastern Orthodoxy in the 1990s. This movement is scored for two choirs a8, allowing the composer to achieve a vast palette of choral colors and textures in service of the text.
Cappella Records proudly announces the TWO-DISC release of HEAVEN AND EARTH, performed by Cappella Romana with 45th Parallel Universe, directed by John Michael Boyer. The other work featured on the album is Ikon of Light, by Sir John Tavener.
Heaven and Earth
is released on a
Hybrid SACD
in 2.0 stereo and 5.0 surround sound (DSM192K/24bit), recorded in
DSD
and
Dolby® Atmos Spatial Audio
and downloadable to audio servers and devices. The accompanying booklet provides an extensive essay on the work, the full texts used in the composition, composer notes, full translations, and beautiful photography.
To be taken to the order page, click
here
.
less