Look Inside

Alexander Khalil

He Waters the Mountains (v. 14-20)

Cantata
Unison with ison
English
8
5:11
2020
HE-SC3
This piece is part of the following collection(s):
There are no customer reviews yet for this item. Be the first!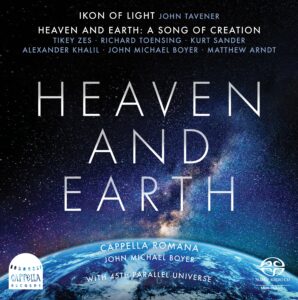 The third movement from Heaven and Earth: A Song of Creation, a unique collaborative work by six different composers active in different repertories of Eastern Orthodox Christian sacred music that brings to life the words of Psalm 103 (LXX) with a musical unity in diversity that reflects the psalmist's images of the unity in diversity of the divinely created order. This movement, like the first, is composed in the style of Byzantine chant, but utilizes a different technique of treating the melody: rather than having different sections of the choir carry the melody in their respective range, the wide-ranging chant employs the entire four-and-a-half-octave range of a mixed choir, handing off the unison from section to section.
Cappella Records proudly announces the TWO-DISC release of
HEAVEN AND EARTH
, performed by Cappella Romana with 45th Parallel Universe, directed by John Michael Boyer. The other work featured on the album is
Ikon of Light
, by Sir John Tavener.
Heaven and Earth
is released on a
Hybrid SACD
in 2.0 stereo and 5.0 surround sound (DSM192K/24bit), recorded in
DSD
and
Dolby® Atmos Spatial Audio
and downloadable to audio servers and devices. The accompanying booklet provides an extensive essay on the work, the full texts used in the composition, composer notes, full translations, and beautiful photography.
To be taken to the order page, click
here
.
less